The Seven Flags of the New Orleans Tri-Centennial
Francis Lightfoot Lee
Signer of the Declaration of Independence
FRANCIS LIGHTFOOT LEE was born in Loudoun County, Virginia on October 14, 1734. He was the fourth son of Thomas Lee and by the order of his birth, Francis did not enjoy all the advantages his father endowed on his older brothers, who were sent to England for their education. He was educated at home by a tutor named Craig, under whose care he rapidly acquired an appreciation of reading, science and literature. Lee's father's fortune made the study of a profession unnecessary and from his early years "was addicted more to pleasure than business". Yet he did serve for a decade in the House of Burgesses, and although usually quiet and reserved, he did show his strong resistance to the British after the Stamp Act – all the while insisting, "What damned dirty work is this politics!"
Francis Lightfoot Lee married in 1772 when he was thirty-five. His wife, Rebecca Tayloe was a daughter of Colonel John Tayloe, and they moved to a plantation in Richmond County, Virginia, where his wife had been reared. In 1775, at the age of forty-one, he was sent to Congress where he sat silently creating neither flurry nor argument. Still, those who were in his company were impressed by his voting and by his private conversations. "I thought he possessed," said one member, "a more accurate and correct mind than his brother, Richard. I never knew him wrong eventually upon any question. He often opposed his brother's vote, but never spoke actively on the floor of Congress."
Francis Lightfoot Lee came to Congress and cast his vote for freedom without anxiety or worry about the future of independence in America. "Let us, my dear friend, do the best we can for the good of our country, and leave the event to fate." Francis Lightfoot Lee was not flamboyant, boisterous or obtrusive – but rather a "gentleman" a steady, firm supporter of the Declaration of Independence.
Lee retired from Congress in 1779, desiring to return to the pleasures and comforts of his home. However, he was not permitted to enjoy his retirement for long. He was elected to the Virginia legislature and although reluctantly, he took his seat and fulfilled his obligations. He was characterized for his integrity, sound judgment and his love of his country. He was not content for long however, and relinquished the duties of public life to enjoy his retirement.
Lee had no children that required his care and attention so he devoted much of his time to the pleasures of reading, farming and the company of his friends. He had suffered occasionally from pleurisy and on April 3, 1797 at the age of sixty-three he died from it. His wife also became infected and she died within a few days of her husband.
Source: Centennial Book of Signers
Francis Lightfoot Foot Lee was the son of Thomas Lee, and born in Westmoreland county, Virginia, on the 14th of October, 1734. He was the brother of Richard Henry Lee, whose eloquence rose higher but whose reflections were no deeper than those of Francis. In childhood he was admired for his docility and amiable deportment, in youth he was the pride of every circle in which he moved, and when manhood dawned upon him he exhibited a dignity of mind and maturity of judgment that his fellow citizens highly appreciated and delighted to honor.

He was educated by the Rev. Mr. Craig, a Scotch clergyman, of high literary attainments and profound erudition. Under his tuition the germs of knowledge took deep root in the prolific mental soil of young Francis, and produced plants of a rapid and luxuriant growth. The Scotch literati are remarkable for deep investigation, thorough analyzation, and lucid demonstration. I have never met one who was a pedant, a vain pretender, or a superficial scholar. Under such an instructor the intellectual powers of Francis assumed a vigorous and solid tone that placed him upon the substantial basis of useful knowledge and enduring fame. He became delighted with the solid sciences, and spent less time in the bowers of belles lettres than his Cicero-wean brother. The history of classic Greece and republican Rome enraptured his mind with the love of liberty and liberal principles. He read closely, thought deeply, and investigated fully. He prosecuted his studies with untiring industry and became an excellent scholar, without the advantages of European seminaries, to which most of the young sons of wealthy men were then sent to complete their education. Imitating the examples of his elder brothers, whose manners had received the highest polish of English gentilesse and French etiquette he became an accomplished gentleman. Raised in the midst of affluence, actuated by moral rectitude, free from a desire to participate in the follies of the world, living in the enjoyment of the refined pleasures that promote felicity without enervating the body or vitiating the heart, and a favorite among all his numerous acquaintances, his earthly happiness was of the purest kind. With a mind richly stored with scientific theory, with ethics and correct religious principles, he entered the school of experience and became emphatically a practical man. Possessed of an ample fortune he could devote his time to such objects as he deemed most useful. Having early imbibed the love of rational liberty, and having fully canvassed the conduct of the British ministry towards the American colonies, Mr. Lee resolved to oppose the encroachments of the king upon rights and privileges clearly guarantied by the constitution of the mother country. He could not consent that the trappings of the crown, the pomp of the court, the extravagance of the ministry, and the expenses of the parliament of Great Britain should be borne by the yeomanry of America, eloigned as they were from the protection and good feeling of that power—deprived as they were from being properly represented in legislation—subject as they were to the caprice of every new cabinet created by the king—threatened as they were to be dragged from their native soil to be tried by a foreign jury—oppressed as they were by the insolence of hireling officers—and driven as they were from under the mantle of constitutional rights.

In 1765, he was elected a member of the house of burgesses to represent Loudoun county, where his estate was situated. He became an important advocate of equal rights and took a bold stand in favor of natural and chartered privileges. Blessed with a strong and investigating mind, a deep and penetrating judgment, a clear and acute perception, a pure and patriotic heart and a bold and fearless disposition, he became one of the most efficient advisers in the house. He continued to represent Loudoun until 1772, when he married the highly accomplished and amiable Rebecca, daughter of Colonel Tayloe, of the county of Richmond, where Mr. Lee then permanently located. The same year he was elected to the house of burgesses from his new district, and continued to render valuable services and exercise a salutary influence in that body until he was appointed a delegate to the Continental Congress.' Amidst the gathering storm. of the revolution and the trying scenes that accumulated thick arid fast around him, he stood undaunted, unmoved, and undismayed. lie advocated every measure calculated to promote the independence of his country, and was prolific in plans for the accomplishment of the desired object. As a member of committees he had no superior. An extensive reader, he had made himself acquainted with the principles of every form of government, and understood well the minutiae of magna charta and the British constitution. He was prepared to act advisedly and safely, and determined to resist, even unto blood, all the illegal advances of a base, designing and avaricious ministry. He made no pretensions to oratory, seldom spoke in public, but when so highly excited as to rise, he poured upon his opponents a flood of keen and withering logic that often made them quail beneath its force.

On the 15th of August, 1775, Mr. Lee was elected a member of the Continental Congress. A more expansive field was then opened before him. To do or die, to live in chains or peril every thing for liberty had become the dilemma. Columbia's soil had been stained with the blood and serum of Americans, shed by the very men who had been cherished by their bounty and fed by the labor of their hands. The dim flickerings of the hope of redress and conciliation were fast expiring in the socket tif forbearance. The great seal of the social compact had been broken by the British ministry, the last petitions, remonstrance and addresses to the king were to be prepared, and the final course to be pursued by the colonies, determined. Inglorious peace or honorable war were the two propositions. In favour of the last Mr. Lee put forth the strong energies of his mind. Eternal separation from England and independence for America could only satisfy and meet his views. Being appointed upon many important committees, his exertions to obtain this desideratum were unremitting, and his influence was strongly felt. So highly were his talents appreciated that he was often chairman of the committee of the whole. So convinced were his constituents of his ability to promote the best interests of the glorious cause of freedom, that they continued him in Congress until his retirement from the public arena in 1779 to scenes more congenial to his mind, but less beneficial to the deliberations of the august body he had so much benefited.

When the proposition of final separation was submitted to Congress by his brother, his soul was animated to the zenith of patriotic feeling, and when the declaration of rights was adopted, his mind was in an ecstasy of delight. His influence, his vote and his signature, told how strong and pure were his desires in its favor. On that sacred instrument, the chart of freemen and an eye-sore to kings, the name of Francis Lightfoot Lee stands recorded—a lasting monument of his civic fame.

He rendered essential aid in framing the articles of confederation that carried the colonies through the revolution. This was a work of great labour, and underwent, besides the time bestowed upon it by the committee, thirty-nine distinct discussions in the house. He contended ardently that the rights of contiguous fisheries and the free navigation of the Mississippi river should be incorporated in the claims of the United States upon Great Britain in all propositions of peace. The wisdom and sagacity of his position is now fully demonstrated although it then met with opposition by some, and was considered as a matter of secondary importance by others.

A late writer has charged the "Lees of Virginia" with hostility towards Washington, which, unqualified as it stands, includes Francis with the rest. This hostile feeling, he asserts, arose from the sentence of the court martial in 1778, that suspended General Charles Lee from holding any commission in the American army for one year. Had the writer consulted the records of Congress he might have avoided this error. Francis Lightfoot Lee was the only one of the name in Congress at that time. The sentence was acted upon and sanction by that body, and Mr. Lee voted in its favor. He was ever a warm friend of the illustrious Washington, and I have yet to learn that his brothers were not also. General Lee was a native of North Wales, and, excepting a short time during his youth, was not in America until 1773, and could not have had the same claims of friendship upon the "Lees of Virginia" as the father of our country. He was an accomplished and brave officer, having served in Portugal under Burgoyne, and in the army of Poland, and other places, from the time he was eleven years old until his unfortunate dereliction from orders at the battle of Monmouth. He died in Philadelphia in 1782. Another evidence that Mr. Lee held the hero of the revolution in veneration is of a later date. ' After the adoption of the federal constitution he was asked his opinion upon it. He answered, with an air of seriousness, "I am old and do not pretend to judge these things now, but one thing satisfies me it is all right—General Washington is in favor of it and John Warden is opposed to it." Mr. Warden was opposed to American independence.

After he retired from Congress he enjoyed the domestic circle but for a short season. He was elected to the legislature of his native dominion contrary to his wishes, but promptly repaired to the post of public duty. After aiding in the removal of the most perplexing difficulties that embarrassed the government of the state, he again retired to the peaceful shades of private life, where he remained until April, 1797, when, calm and resigned, he obeyed the summons of the messenger of death, bid an affectionate farewell to his friends and the world, and took his departure "to that country from whose borne no traveler returns," triumphing in faith, rejoicing in death, with the full assurance of a crown of glory in a brighter and better world.

In public life Mr. Lee was eminently useful; his private worth and excellence shone with equal brilliancy. Always cheerful, amusing and instructive, he was the delight of every circle in which he moved. Wealthy, liberal and benevolent, he was the orphan's father, the widow's solace and the poor man's friend. Kind, affectionate and intelligent, he was a good husband, a faithful companion, and a safe counselor. Polished, urbane and gentlemanly, his examples were calculated to refine the manners of those around him. Moral, discreet and pious, his precepts had a salutary influence upon the minds of all who heard them and were not callous to good advice. He died of pleurisy, resulting from a heavy cold, and, within a few days of each other, himself and wife were both laid beneath the clods of the valley. They had no children to mourn their loss, but their graves were moistened by the tears of numerous relatives and friends. Let the shining examples of this good man be reflected forcibly upon our minds, that our country may be benefited by us in time, and that our final exit from earth may be peaceful and happy. -- A Biography of the Signers of the Declaration of Independence, By L. Carroll Judson, Published by J. Dobson, and Thomas, Cowperthwait & co., 1839, Edited By Stanley L. Klos 2000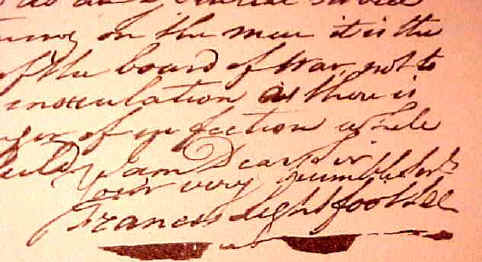 Francis Lightfoot Lee, the fourth son of Thomas Lee of Virginia, and brother of Richard Henry Lee, one of the most distinguished patriots, and eloquent advocates of American Independence, was born on the fourteenth day of October, 1734.

According to the fashion of that age, with gentlemen of fortune in the southern provinces, the elder sons of Thomas Lee were sent to England for their education. But Francis was of too tender an age, at the decease of his father, to be sent abroad, and was favored with only what was justly deemed secondary advantages for procuring a classical education at home.

Happily for young Francis, his tutor was a Scottish clergyman, of a good character, a man of science, and a correct classical scholar, and who not only made his pupil a good scholar, but imbued him with an early taste for reading, and mental investigation, unusual at his age, and especially among those who possess all the means of indulging in the fashionable pleasures. While many promising youths have pressed forward the course of dissipation, young Lee was, under the influence and counsel of his judicious instructor, gaining s stock of valuable knowledge, which laid a foundation for the course of usefulness and honor, which marked his subsequent career in life. ,

His brother!, who had been to England to receive the benefit of English schools, and the polish of English society, re. turning about the time when he attained to manhood, presented such models for imitation, as seem to have enkindled a desire to emulate them in the acquisition of knowledge, as tvel! as in highly polished manners.

The ample fortune left him by his father, precluded a necessity for seeking a profession, as a means for his support

Feeling, in common with his brethren, that warm and patriotic attachment to his country, which was strongly charac teristic of his family, Francis Lightfoot Lee, amid the youthful pursuit of whatever gratification he desired, had his mind arrested by the gathering storm; and his efforts were exerted for effecting the best security against the desolating effects of its violence, whenever it might burst on the colonies.

Closely associated with his brother Richard Henry, and implicitly confiding in his superior wisdom and judgment Francis had frequent opportunities of listening to his ani mating eloquence, and oracular harangues, by which he early and perseveringly attempted to rouse up his neighbors to a just view of their dangers, and to kindle in them a spirit of daring and determined resistance, similar to that which animated his own breast. To these Francis listened with attention and profit. His fascinating pursuits after pleasure were soon relinquished, that he might engage in others of higher interest, and more enduring consequences.

While his brother was returned a member of the Virginia house of burgesses, for the county of Westmoreland, in which he resided, Francis, holding his property in Loudoun county, offered himself a candidate for representing his fellow citizens of that county, in the same legislative assembly. He was successful; and he took his seat in that body about the year 1765—the period in which apprehensions of the American colonists were first awakened to the insidious designs of the British parliament upon their rights, in the memorable " Stamp act." By the periodical-election of his fellow citizens, Mr. Lee was returned a member of the house of burgesses ; and he continued to occupy his seat in that body until the year 1772.

Having, in the mean time, formed a connection by marriage with the daughter of Colonel John Taylor, of Richmond, he removed thither, and made that city the place of his permanent residence; and when the term of service had expired, for which he had been returned by the citizens of Loudoun county, he was elected a member for Richmond.

While he remained a member of the house of burgesses, in the Virginia legislature, he continued to unite his efforts to those of his brother and Patrick Henry, to rouse his patriotic countrymen from their inattention to their danger, and to frustrate the designs, and neutralize the insidious influence, of the active partizans of the royal cause in Virginia.


In the year 1775, Francis Lightfoot Lee was elected a delegate to congress, by the Virginia convention, to supply the seat vacated by the resignation of Colonel Bland. He was regularly re-elected to the same station, during the three following years of 1776, 1777, and 1778; in the first of which he voted for and signed the Declaration of Independence. He does not appear to have distinguished himself as a speaker, in public debate, either in the Virginia legislature, or on the floor of congress. But he was esteemed a useful member of both. In congress he was a member of several important committees; and frequently presided as chairman, when in committee of the whole. He was also a member for Virginia of that memorable committee, which framed the articles of the confederation ; a labor, surrounded with difficulties and embarrassments enough to have discouraged statesmen of less devoted and persevering patriotism, than influenced the venerable members of the continental congress, in that eventful period.

Mr. Lee entirely and uniformly harmonized with his brother, Richard Henry, in his sentiments respecting the fisheries, and the free navigation of the Mississippi River. While many of the southern members of congress and several of his colleagues would have been contented, on securing their own immediate interests, which immediately affected the states they severally represented, he, with his distinguished brother, strenuously maintained, that no treaty ought to be concluded, which did not recognize the right of the United States to both of those valuable privileges.

Mr. Lee continued to serve his native state in congress until the spring of 1779, when he retired to his home; where it was his intention to have spent the remainder of his days in the enjoyment of domestic quiet, to which he was strongly attached. But his fellow citizens still desiring his services, sent him once more to their legislature ; and gave him a seat in the senate of Virginia. But after a short engagement there, he determined to relinquish all engagements in public life, and. bid a final adieu to its labors, turmoil's, and cares. This determination he soon carried into effect, and retired from every public service to the close of his life.

Having no children, he was exempted, in his declining years, from the usual solicitude which parents commonly feel for their posterity. Mr. Lee spent his time pleasantly; de. voting it to his friends and relations, whose welcome visits enlivened the cheerfulness of his hospitable dwelling, while reading and agricultural employments, of which he was very fond, were at once agreeable sources of recreation, information, and amusement.

At length a pleurisy seized him, and his beloved companion, in one of the most severe winters that Virginia experiences, and removed them both from the world, within a few days of each other. -- The Lives of the Signers of the Declaration of Independence, By Nathaniel Dwight, Published by A.S. Barnes & Co., 1860, Edited by Stanley l. Klos 2000


The Congressional Evolution of the United States Henry Middleton
Unauthorized Site: This site and its contents are not affiliated, connected, associated with or authorized by the individual, family, friends, or trademarked entities utilizing any part or the subject's entire name. Any official or affiliated sites that are related to this subject will be hyper linked below upon submission and Evisum, Inc. review.
Copyright© 2000 by Evisum Inc.TM. All rights reserved.
Evisum Inc.TM Privacy Policy